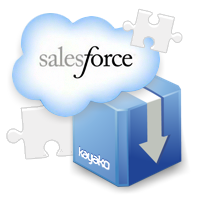 Kayako & Salesforce Integration
Yet again, we are taking customer support up a notch by integrating Salesforce CRM, the world's leading customer relationship system, with Kayako.
The latest research reveals that over 80% of companies known to deliver outstanding customer experience, are actually outperforming their competition. Such stats put all the more emphasis on the indisputable importance of providing an exceptional customer service. The two-way integration of Salesforce CRM and Kayako, the industry leading CRM and help desk systems, will make sure your company builds strong, long-lasting customer relationships. A unified view of sales, marketing and support ticket data available from either Salesforce or Kayako, will ensure that sales reps and managers have everything they need to provide fantastic customer experience while driving more sales and cutting costs at the same time.
Let's go over a few key benefits you can get from integrating the two applications:
- access Salesforce CRM data directly from Kayako: view and update Salesforce CRM record types, such as Accounts and Contacts via the Kayako user interface;
- customize which fields from each Salesforce CRM record type will appear in Kayako;
- access Kayako data from Salesforce CRM: view Kayako ticket activity from Salesforce CRM (the Activity History section);
- employ Salesforce's advanced analytic tools to analyze Kayako tickets;
- make sure your employees have all the information they need at their fingertips to communicate and engage with customers in the most efficient manner.
Custom-made features are available upon request:
- the benefits of Live chat synchronization between the systems;
- creating Salesforce tasks and contacts from Kayako, using the Add Note tab;
- generating reports on combined data from Salesforce CRM cases and Kayako tickets;
- and more.
* Your organization must use either Enterprise Edition, Unlimited Edition, or Developer Edition.
Be sure to check our demo for this module
Kayako:
URL: http://salesforce.kayakodev.com/staff/
Login: admin
Password: 111111
Salesforce CRM:
URL: https://login.salesforce.com/
Login: okhizhnyak@holbi.co.uk
Password: upon request
delivery within:
4-6 Days